Here & Now
Floating Anarchy
Unabridged (and some embellished) backstories for the Gospel of Free anthology CD (parts of which made the liner notes), including the times around the Planet Gong Floating Anarchy '77 tour, live album (also on CD) and studio single, "Opium for the People".
---
---
Anno Wombat
Someone said "Planète Gong"?
Dancer
Someone said "Planète Gong"? And out of the conjurer's hat spring a bunch of punked-up pixies, the street version of the silver surfers of pop. [more…]
---
Dave the Slave




Here & Now - There & Then




Winzer the Ozone zone


*The Sound disintegrates from deep within your hemispheres
Leaving you here & now*
aka

Windsor Dave




Roadie
1976 was one of those years. Laughter, friendship and a Mother of a summer seeped through the pores and people were happy, The Colour Grey was put into suspended inanimation. Early in the year my brain was being liquidised in a tiny dungeon of an outhouse in Stoneleigh Street. A friend - Steffy - had asked me over to a band rehearsal. To put into words what I heard that night is like trying to explain the Colour Orange to a blind man. That was my intro to Here & Now and as far as I was concerned, if their sound didn't knock you into the middle of the next galaxy you were dead. [more…]
---
Grant Showbiz




Me, me, me, me and Here & Now and me


aka

Grant McFuttocks




Sound Engineer
I'd started to hear about Here & Now when I was living with Steve Hillage and Miquette up at the Gong farm in Witney, Oxford - I'd been a massive fan of both Gong and Bowie and had hitched all round the country to see both groups, bunking off school, but Bowie was somehow untouchable (Hunky Dory period) whereas me and my very tripped-out friends were getting lifts back in the Gong bus after gigs, often ending up crashing at Witney. [more…]
---
Keith the Bass




On the Bus


aka

Keith the Missile Bass




Tree impersonations
…recalls one very long, very crazy day on the Here & Now tour bus - aka the mobile Gestalt therapy unit - circa 1978. [more…]
---
Kif-Kif le batteur
History of Planet Gong
Barefoot drums, nearly naked vocals
daevid bumped into us by accident(?) one day in that well known capitalist wholefood store on Portobello Road who I won't give the pleasure of naming. [more…]
---
Suze da Blooz
Singing da Blooz by Suze
Vocalist
And how can these things BE spoken about? How can the memory of something so seminal, so forming and transforming be expressed? I feel wordless and my fingers keep getting onto the worng keys. I don't think that I can say anything which will come near expressing what I'd like to say about the Here and Now Band. Not Now. Not about Then. I don't even know how far back to go to find the beginning. But if I don't say my piece… So here goes… [more…]
---
Sluggo




Floating Anarchy - 'No Wave' Guerrilla Memory Theatre


aka

Doug da Slug, Doug da Thug




Roadie, bus driver.
"Always pick your nose before the curtain goes up." …
---
Planetgong
Floating Anarchy '77
set list
the songs
---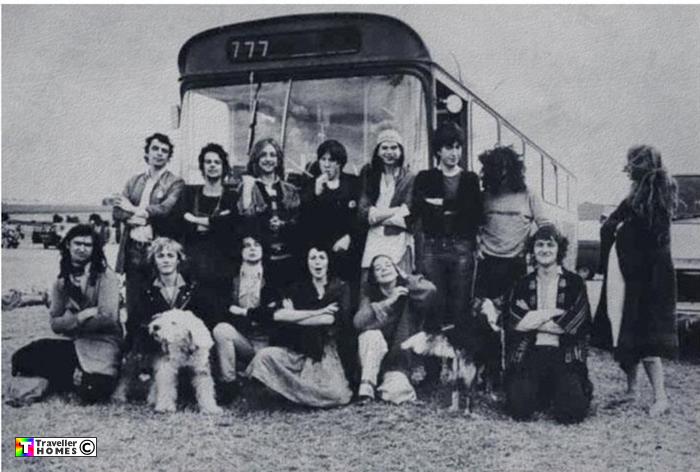 The Buses
1962 Bedford J4LZ2, ex-London Metropolitan Police bus, registration 651 DJJ. Green when Twink owned it. Silver ('The Silver Slug') when Here & Now and Planet Gong toured it. Replaced early in 1978 with this 36-foot (11 metre) faded red Leyland Leopard ex-London country commuter bus, later by a Leyland Tiger.