---
Alfred Jarry
Pataphysician, 1873-1907
---
Amnesty International
Human rights campaigners.
---
ARC - Alliance of Religion And Conservation
'Many heavens, one earth.' Dozens of major leaders representing a spectrum of faiths and range of organisations committed to saving the planet. 'Practice what you want to preach, and preach only what you practice.'
---
Capt. Beefheart
purple mounding dances doped in stunned mirages
---
Better World Links
Thousands of positive connections.
---
Corporate Watch GB
You 'vote' with every unit of money you spend… Who gets yours? Be aware.
---
Cultural Survival Response
Environmental action.
---
Current 93
and David Tibet
---
Earth First!
Direct-action environmental movement - the 'monkey wrench gang'.
---
First Church of the Last Laugh
St Stupid's Day, 1st April.
---
FreeCycle
A worldwide gifting movement…
---
Greenpeace
Just join, or rejoin.
---
Incredible String Band
Be Glad for the Song has no ending… (official mySpace page)
---
Infinite Possibility
A host of posi-links.
---
Information Clearing House
The news you don't find on the News…
---
Ivor Cutler
When we die, we'll go to a place where the flowers will pick us and pull our limbs off and say 'She loves me, she loves me not'.
---
J.B. GB
ex Here & Now mucker - director of the Portobello Film Festival, London
---
Kiva
Make micro-loans directly to low income entrepreneurs around the world with the help of this non-profit.
---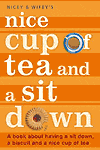 A nice cup of Tea and a sitdown
It's obvious, really.
---
Parallel Youiversity
Alternative futures? Fraser Clark's brain?
---
Accepting Personal Responsibility
Paths to self-empowerment.
---
Randy California and Spirit
Return to the Sea…
---
Rumi
This [mystery] hath no end…
---
Robin Williamson GB
Incredible String Band founder, storyteller and Honorary Chief Bard
---

SETI@home
Listening to the Cosmos… a scientific experiment using Internet-connected computers in the Search for Extraterrestrial Intelligence (SETI). You can participate by running a free program that downloads and analyzes radio telescope data.
---
Tibet
Government in exile.
---
Free Tibet Campaign
---
Traveller Homes

GB
It's how we roll. Images and tales of converted buses, lorries, vans and caravans (mostly around the old free festival circuit), as well as boats, tractors and wagons, and all sorts. A sizeable and invaluable archive.
---
Weed GB
Squatting archive; Grosvenor Road (roots of the Here & Now band), road protests, romanesque parapolitical philosphy, and so much more…