---
Free State of Avalonia
(web-site)
[posted Sat 20 Nov]
I am delighted to be able to point you in the direction of a new, budding web-site, The Avalonian Spirit Level, Organ of The Free State of Avalon. Multi-dimensional tactician magus and determinedly free spirit Tim Flatus (of The Invisible Opera Co. of Tibet, Silver on the Tree and Ici Maintenants fame) decided to take up the challenge to publicly revive, stimulate, document and open up to the wider world a concept that has been dear to the hearts of all true Avalonians for many years. The more interestingly turbulent the times the more such portals to other pathways and realities are needed and may prove fruitful.
---
Gong : pre September 2010 Tour publicity
[updated Thr 13 Jan]
Prior to Gong's September 2010 dates

Steve, daevid and Gilli were busy spinning tales and spreading the word. They did loads so you'll probably bump into the results all over the place.

Record Collector the October 2010 featured a large Gong article several pages long. It was their first big Gong article since the mid 1990's.[preview]
Classic Rock's September 2010 edition, had a half page Q and A article with Gilli.
Steve Hillage has been doing some recording for radio stations listed below. There are couple of interviews and a "take-over" where he chooses some favourite music. These may be archived by the stations.

Rock Radio : 106.1 FM Manchester; 96.3 FM Glasgow. Was boradcast 10pm on Tuesday August 31st.
Kerrang Radio : 105.2 FM Birmingham; DAB: Kerrang Radio. 5pm on Sunday August 22nd
Total Rock Radio : Broadcast Thursday August 19th

daevid and Gilli

also did some telephone interviews from the GAS office, but for who escapes me at the moment. They could turn up anywhere, "Caravan Monthly" to "Nursing Times" …expect the unexpected, I expect.
---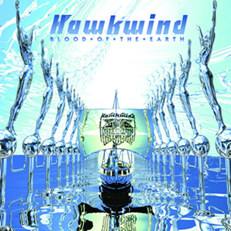 New Hawkwind music
[posted Sat 07 Aug]
"Blood of the Earth" (studio recording), was released at the end of July. I'm sure Tim Blake plays a key role in proceedings… It is available in several different formats including vinyl. (I think you have to buy all of them in order to get every newly released track?). I may stock a few copies in the Bazaar.

"The Madcap Laughs Again" (Mojo magazine's March 2010 cover-mount CD) includes a version of Syd Barrett's "Long Gong" contributed by Hawkwind. Rather old news, but… rather good.
---
Steve Hillage: Manuel Göttsching Event
[posted Sat 31 Jul]
Steve Hillage has been invited by guitarist Manuel Göttsching, prime mover of Ash Ra Tempel and Ashra, to be part of 'Inventions For Electric Guitar' at the 10th Metamorphose Festival in Japan on September 4th. Other guest guitarists are ace avant-guartist Elliott Sharp, and young Zhang Shouwang from China. 'Inventions for Electric Guitar' is Manuel's 1975 solo album of richly treated and effected guitar pieces which was ahead of it's time - well worth exploring. Rehearsals have been taking place in London and I know that Steve is excited at the prospect of the gig.

There are some MP3 samples of the original album Manuel's web-site.
---
Tim Blake: Hawkwind Mojo Honour
[posted Wed 23 Jun]
Hawkwind, including of course Tim Blake, were honoured at the Mojo Awards earlier this month when they received the 'Maverick' award. So congratulations to the current line-up and all the other mavericks (and boy have there been some) who have have served the Hawkwind cause over the years. And as Tim himself posted on the Planetgong Forum, "Being awarded such a distinction was one of the weird things that bring stuff into light. I thought how proud I was to have taken part in the two most marvellously "Maverick" bands in the past 41 years!"

Click on the MIB in colourful shirts photograph above to link to a prime bit of video of Tim and old Capt. Badger himself being interviewed at the Awards.
---
daevid allen: Bananamoon Obscura Sale
[posted Tue 04 May]
Due to receiving 'surplus stock' from the record label we now offer the remaining supplies of this intriguing series of daevid allen archive CDs at great prices, and one much nearer the price I thought perhaps they should have been in the first place. If you want to complete your collection single copies are just £6.00 + VAT, and there are further even lower price per CD deals on buying two different batches of 7, or all 14 of the remaining BMO numbers. The planned BMO releases, Nos. 18, 19 and 20 will almost certainly now not be released.

Many other Voiceprint Gong related CD releases are also greatly reduced in price.
---
Mirror System: Reflector CD
- updated Fri 18 Jun '10
You can now listen to samples and order the new Mirror System DJ Mix CD Reflector in the Planetgong Bazaar.
---
daevid allen: ORTF Studios, Paris 1968 - published 04 May '10
---
System 7 : Japan : Beltane
[posted Thr 29 Apr]
Universal Sounds of Orchestra present System 7 in Tokyo this Saturday, May 1st - quick, engage - teleport now - tuneful, colourful You Tube advert.
In Japan Beltane coincides with Sakura, or the Cherry Blossom season. Apparently due to the cold Winter the Cherry Blossom forecast here in Europe is better than it has been for years. I hope you are seeing evidence of that near you right now!
All the gig info…presented in a wizzy Japanese/techy stylee
---
Local Poet Keeps Clothes On
[posted Wed 14 Apr]
Byron Bay, Australia, Sunday 7 March 2010 - The Rails car park, 2pm. Click on the image to read daevid allen's (centre, clothed) take on events, and download the newspaper page online. [ride report]
---
Mirror System : 'Reflector' CD Launch Party
[posted Mon 12 Apr]
Inspiral Lounge - Saturday, 24th April. The CD will be released June 21st - the Summer Solstice - and will be available to pre-order here at Planet Gong as soon as possible.
In other Steve and Miquete news : A great bouncing psy-trance System 7 remix track with some distinctively Hillageian guitar lines appears on the Liquid Soul album, Cocktails, which was released on Jan 5th of this year. Hunt it down. As the alert among you may remember Mr L. Soul did a rather fabulous remix of Space Bird on the System 7 12" of the same name. A nice productive example of "I'll remix yours if you remix mine…".
---
Gong 2010 dates
[updated Wed 19 May]
Birmingham's HMV Institute on Monday 20th September has just been added to the list of UK Gong dates this year. A bit of a late surprise, but a very pleasant one. It's over 30 years since the band have played what used to be known as the Digbeth Civic Hall. So most pleasingly a heart of England gig joins the three other favourite locations in hosting the Gong/Space Ritual extravaganza. Just click on the image above to order tickets (yes I know Birmingham not listed there yet).
It's 10 years since Gong played Glasgow, a city justifiably renown for hosting some of the most vibrant gigs - must be the water. Manchester Gong gigs are always very hearty affairs, it's almost a second home. Last year's gig sold out 3 months in advance so to avoid any disappointment this year the Gong/Space Ritual event will be in the larger of the Academy venues. Finally the Forum, home of the Gong 25th party in '94 and many other memorable capital city Gong extravaganzas over the years. What the Bataclan in Paris has always been to Gong the Forum has clearly become in London.
This will be the UK's first chance to experience Ian East, newest recruit to the cause in the ever revolving Gong whirligig. He was amazing on the European tour last year and is a very humorously creative sax and flute player ideally suited to Gong's particular quirks. For any of you prone to fret - please don't, saxist extrordinaire, Theo Travis has not vanished, nor has Dr Howlett, they are just very busy chaps and are rightly surfing their own personal waves for now. Also on board this season is Dave Sturt on bass. He too slotted perfectly into last year's European (and a couple of the UK Festivals), and then took it further. Everything bubbles along in a way we all find most stimulating and pleasurable. We trust that you will find it likewise.
Gong's Italian dates in July have now been finalised. Joining the Rome gig on Thursday 8th is one in Asti, between Turin and Genoa, on the Monday 5th and Imola, near Bologna, on Tuesday 6th. All three are in stunning locations, a Park, a Piazza and the grounds of a Renaissance Castle.
And….we are possibly not quite finished with the Gong gig schedule for 2010. There is a chance that a futher European gig may appear in the September schedule.
---
Hugh Hopper Relief Fund
- published 23 Mar '10
Hugh's wife Christine and daughter Rosa are in temporary but pressing need of money. Christine has very recently come out of hospital, and for complex reasons (compounded by the glacial pace of estate law, following Hugh's passing) is desperately low on funds. If you are able to help, please contribute - either here, or at Chris Cutler's ReR Megacorp.
Additionally, all proceeds from sales of the Brainville 3 CD - both at ReR and Planet Gong - are dedicated directly to aid High's family.
---